My thoughts on our sustainability in action
Laetitia Garnier
H&H Group Chief Executive Officer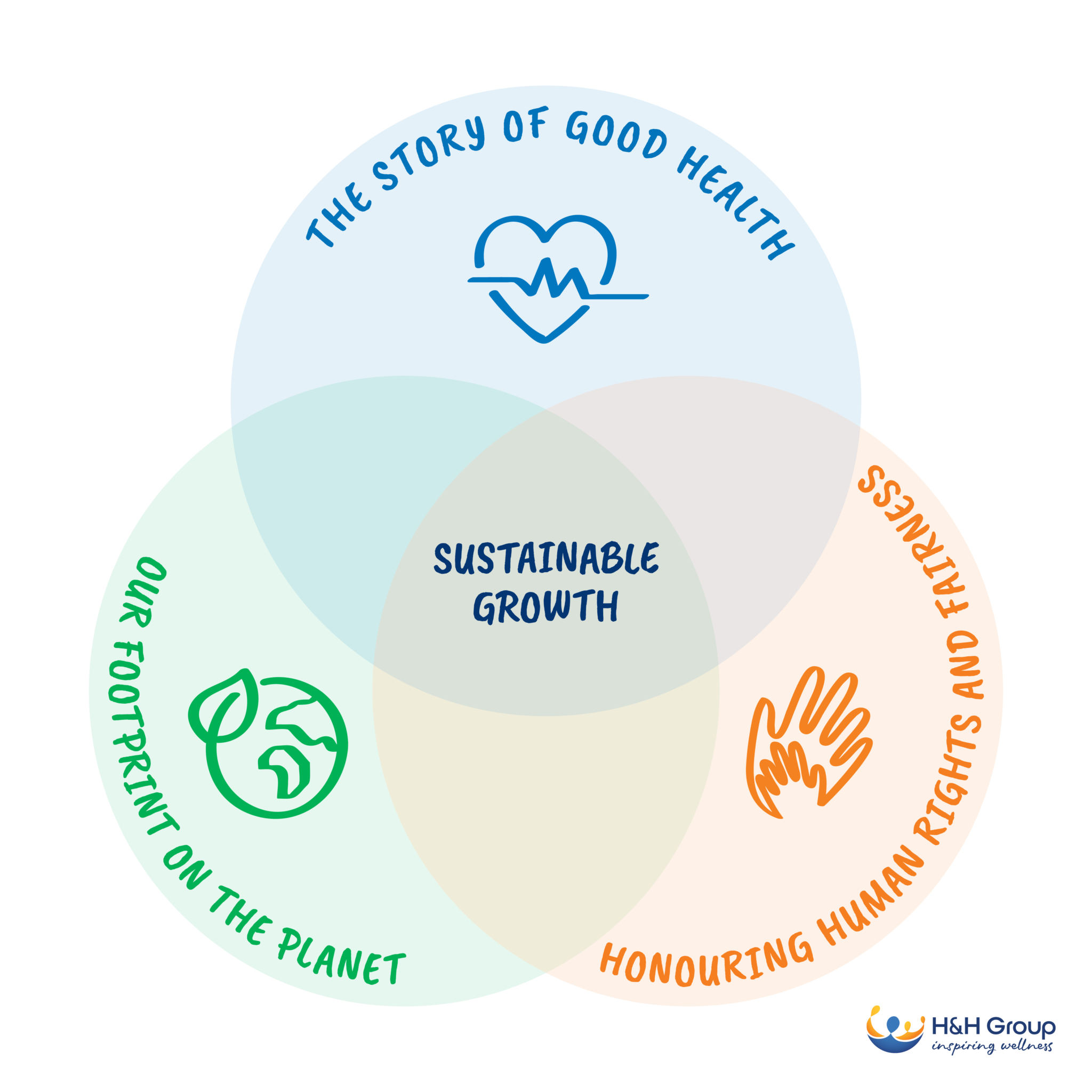 The concept of resilience is at the core of sustaining any business long-term, which is why the first half of 2020 has brought our sustainability goals into sharp focus. As we reach the half-way point in this unprecedented year, it's an opportunity to take a moment to assess our position and consider our actions in this highly unusual time.

Businesses, in particular, have a key role to play in leading the way with regards to sustainability action. As individuals we can all make a positive impact, but the size of a business and the finances spent on making its operations run, mean that the flow-on effect is significantly more powerful – both in the positive and the negative. What an organisation chooses to do in this area has impacts that reverberate far wider – not just on the environment and society, but also on its own workforce, productivity and profitability, and its reputation.
At H&H Group, we are passionate about our mission to inspire wellness and make millions of people healthier and happier through our premium brands, Biostime, Swisse, Dodie, Healthy Times, Good Goût, Aurelia Probiotic Skincare, CBII, and Swisse Me. It is an ongoing balance to drive business growth and deliver value to our stakeholders that sits hand-in-hand with our positive contribution to the needs of consumers, to society and the planet.
Our sustainability journey is one of "action learning". As we have set our goal to become a B Corp organisation, all team members across the globe are working together towards this objective. We learn as we go, we gain understanding on how we can improve ourselves step by step in a humble and positive way. We acknowledge that the road is long and winding but every achievement along the way is a celebration and we learn so much as we move forward in this direction with determination and optimism.

In the first half of 2020, we have seen challenges to the way we operate as a business, but more broadly, the way we live as a global community. The start of the year saw the bushfires tearing through Australia's natural reserves and impacting biodiversity, followed by the Coronavirus pandemic which has impacted and immobilised a large portion of the global community and potentially changed some of our ways of living as we know them for the long term.

As a Group with large operations in China and Australia, we were acutely aware of our need to leap into action to support both events with financial and in-kind donations totalling over USD 1.5 million. But as we emerge and start to find a new normal, the challenges facing us right now and the increased risks of other global threats in the future have brought into focus the importance of our three sustainability goals. These goals, which we expand on in the recently-launched H&H Group Sustainability Report 2019, sit across three areas of focus: the story of good health; our footprint on the planet; and honouring human rights and fairness.
1. The story of good health
We are committed to playing an important role in driving innovation that contributes to the health and wellbeing of consumers. Nutrition, Movement and Mind are the three pillars of our wellness philosophy, driven by the fact that lifestyle factors are key contributors to non-communicable diseases, as identified by the United Nationals in its Sustainability Goal for Good Health & Wellbeing.

To drive these pillars and create consumer health value, we continue to increasingly invest in product innovation and science communication to further strengthen the importance to consumers and to society of proactively managing health in a holistic way.
Over 2019 we increased our Research and Development (R&D) investment by nearly 6%, and our Geneva-based Biostime Institute of Nutrition and Care (BINC) continues to invest in research that explores a broadened understanding of maternal and infant health globally. Some 2020 highlights so far include the completion of a mother-infant study to support the development of next generation and personalised infant milk formula, and the publication of over 10 research articles in international peer-reviewed scientific journals.

We are also committed to supporting the science that sits behind adult wellness. We are currently working on three clinical trials, which will provide a significant contribution to the evidence base of complementary medicine and nutraceutical research, and we are continuing to collaborate with independent research partners. 
At a grassroots level, our H&H Foundation has a purpose to support the community in line with our wellness philosophy and sustainability goals. In 2019, we increased funding of community initiatives by 48% to support and improve public knowledge and behaviour around our three pillars of wellness mentioned above (Nutrition, Movement and Mind). Our H&H team members collectively spent over 7,500 hours volunteering in 2019 – something we are particularly proud of - and our community programs impacted over 200,000 people.
In 2020, we collaborated with our partner Bluearth Foundation to develop and launch the Active Leadership Project, an exciting new program that will support physical education and leadership growth for girls and young women in the Mparntwe community of Alice Springs. In collaboration with Bluearth coordinators and a new Indigenous leader, the Project will be delivered in four schools with the aim of making a positive difference to the physical and emotional health of students, improving overall wellbeing, building confidence and strengthening leadership skills.
2. Our footprint on the planet
All businesses have an obligation to use resources efficiently and thoughtfully, and to be mindful their impact on the environment. H&H Group is no different, and we have put a large spotlight on our environmental impact and our goal of reducing our footprint on the planet. It is pleasing to report that we have made significant improvements to key environmental areas, including an increase in recycling and a reduction in water consumption, non-renewable electricity and emissions. We are particularly proud of achieving 89% renewably sourced electricity and reducing our emissions by 21% in 2019, in part through the installation of a solar farm at our Guangzhou facility last year. We continue to offset the emissions we can't immediately reduce to maintain our carbon neutrality. 

We identified an opportunity to utilise nutraceuticals derived from food waste streams, thereby reducing unnecessary food waste, and reducing greenhouse gas emissions created by decomposing food in landfill. As a result, we are now creating some products with ingredients sourced from waste streams, including grape seed from local wineries and apple cider vinegar from apples rejected by retailers. We are searching for ingredients that are not only drawn from nature but enhance the biodiversity of the ecosystems that we draw from and have other important impacts, like increasing soil health, natural irrigation or sequestering carbon emissions, to protect life on earth.
We are also developing an earth-friendly packaging strategy to achieve our commitment for all packaging to be recyclable, compostable or biodegradable by 2023. In addition to this, we are looking at other closed-loop solutions, such as incorporating recycled materials into our packaging or searching for formats and processes that will enable reusable packaging, while maintaining our high standards of quality and safety.
3. Honouring human rights and fairness
One of our greatest assets is our global team of over 3,300 people, located across 11 countries and four continents, and we take promoting cultural and gender diversity as well as supporting, protecting and empowering our team very seriously.

Championing equality is a key focus for us as a group, and we now have a 50/50 gender split in management and, over the past 18 months, have welcomed new female executives and one more new female board member.
We developed our H&H Code of Conduct, which sets out our global standards supported by our values, driven by our behaviours and which each team member must follow every day. Our H&H Speak Up Channel forms our Group-wide anti-corruption and whistle-blowing policy and system, and we regularly communicate with our team members and business partners on appropriate conduct in our business and the broader marketplace to ensure our business is run in the most ethical and compliant ways. To support safety in our multiple office locations and warehouses, we launched our Global Health and Safety Policy, and are pleased to report we have achieved a 70% reduction in injuries in 2019, with no fatalities.
The physical spaces in our offices across the globe are designed to encourage collaboration, creativity and healthy behaviours. During the various lockdowns of 2020, teams are supported in maintaining connections and wellbeing through regular online workout classes, including our Worldwide Weekly Workout, when team members come together from across the globe during their respective mornings, afternoons and evenings to exercise together in one big class. It's important for us as a health and wellness company to create these opportunities for our teams to connect globally and take care of their wellbeing.
Looking to a sustainable future
As a Group, we have reaffirmed our commitment to the United Nations Global Compact, and front and centre is our goal to achieve B Corp certification in 2025, around which we have realigned our Sustainability Strategy. This includes integrating sustainability into business and individual performance goals and significant progress on individual B Corp impact areas.
At H&H we believe in shared value: we can achieve profitable business growth while at the same time also look after our people, drive a strong and transparent governance, reduce our footprint on the planet and make a positive impact on society by promoting the story of good health to make people live healthier and happier. As the past few months have urged us to further reflect on what a healthy and sustainable future means to us all, I believe the model we are building can be replicated by both business and individuals alike, and look forward to continuing on this journey towards a better future for all.
Be well.
Laetitia Garnier
H&H Group Chief Executive Officer