3 dietitian-approved lunches to pack this week.
Meal prep like a pro with these three easy healthy, happy and delicious lunches.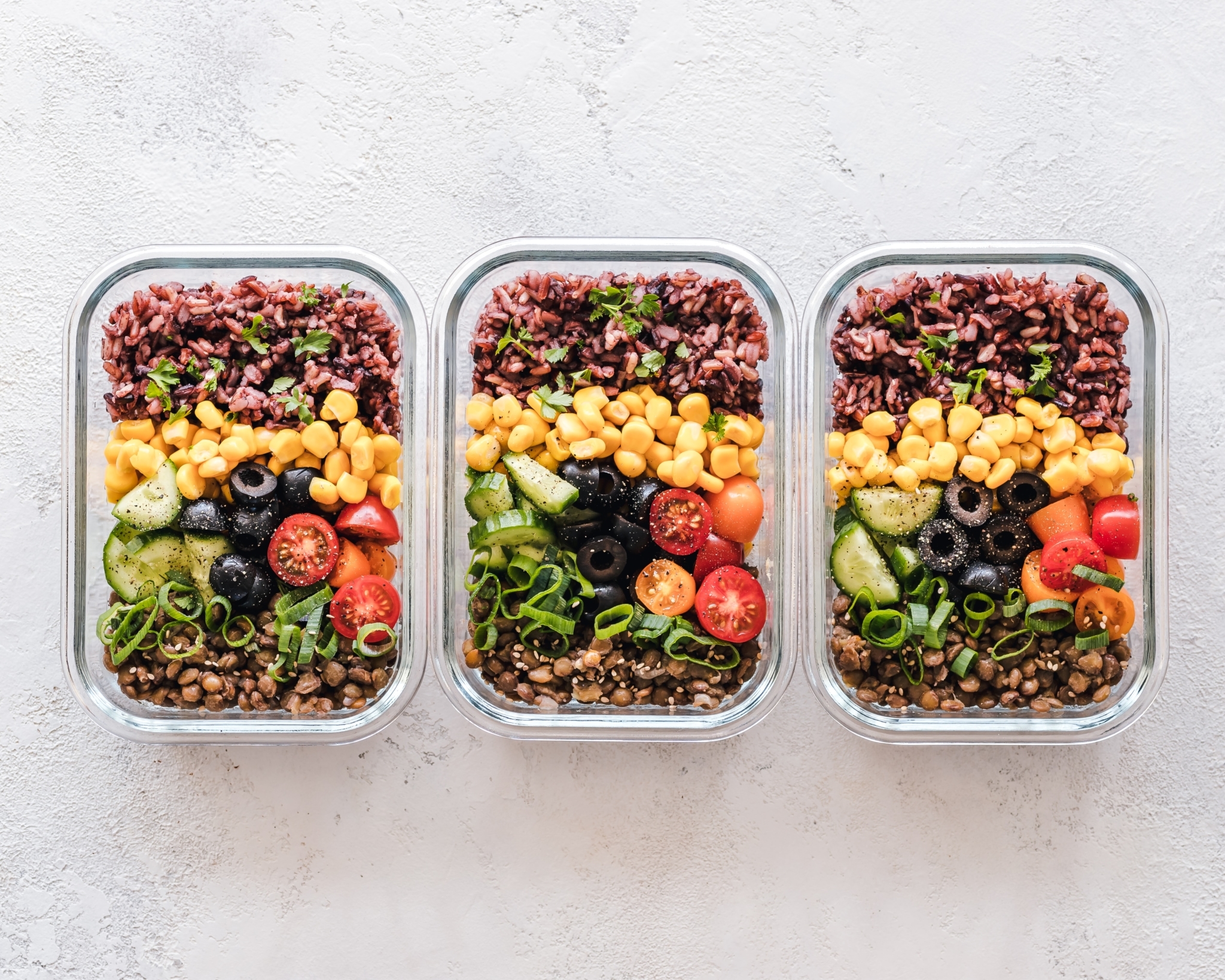 The key to a good lunch is to fuel you without leaving you feeling tired and sluggish or having a mid-afternoon energy slump. How do you achieve this? Look to include plenty of vegetables, a source of protein, and a wholegrain carbohydrate, all in around equal portions.
Here are three dietitian-approved, Healthy and Happy lunches to help you power through the rest of the day.
Rice paper rolls
You can add whatever ingredients you like starting with the vegetables- thinly sliced carrot, cucumber, cabbage, mushroom or spring onion. Then add in some protein such as tofu, lean chicken, prawns or beef. The rice paper surround provides carbohydrate and if you are looking for a little more add in some rice noodles too. You can make them the night before and make enough for day or two.
Rice paper roll ingredients:
12 round rice paper wrappers
2 avocados, thinly sliced
24 fresh coriander sprigs
24 large fresh mint leaves
300g red cabbage, finely shredded
2 large carrots, cut into matchsticks
2 Lebanese cucumbers, deseeded, cut into matchsticks
100g bean sprouts, trimmed
3 green shallots, thinly sliced diagonally
Tofu peanut sauce ingredients:
150g silken tofu
70g (1/4 cup) natural smooth peanut butter
2 tablespoons of rice wine vinegar
1 tablespoon Shiro miso paste (white miso paste)
3 teaspoons honey
3 teaspoons finely grated fresh ginger
2 teaspoons tamari
1 small garlic clove, crushed
Step 1: For the tofu sauce, place all the ingredients in a blender and blend until smooth. Set aside.
Step 2: Dip 1 rice paper wrapper in cold water for 10-20 seconds or until starting to soften. Drain on a clean tea towel. Place on a work surface. Top with 2 avocado slices, 2 coriander sprigs, 2 mint leaves, a little cabbage, carrot, cucumber, bean sprouts and shallot. Fold in ends and roll up firmly to enclose. Repeat with the remaining wrappers and serve with tofu sauce on the side.
Lentil Soup
This delicious, hearty soup can be made and frozen to provide days of delicious lunches at any time of year. Lentils offer both protein and slow-release carbohydrate to give you sustained energy over the day, ticking numerous nutrition boxes. Soups are a great way to use up leftover vegetables!
Ingredients:
2 tbs olive oil
1 tsp ground cumin
1 tsp ground turmeric
1 tbs hot curry powder
1 onion, finely chopped
1/2 tsp natural sea salt
2 garlic cloves, finely chopped
4cm piece of ginger, grated
2 sweet potatoes, peeled and cut into 2cm pieces
1 red capsicum, seeds removed, chopped
1 1/2 cups red lentils
1.5L or 6 cups vegetable stock
To serve, Greek-style yoghurt
To serve, mint leaves
Step 1: Heat olive oil in a large saucepan over medium heat. Add the spices and cook for 1 minute until fragrant. Add the onion and salt and cook, stirring for 2-3 minutes until tender. Add the garlic and ginger and cook for a further 30 seconds or until fragrant.
Step 2: Add sweet potato and capsicum and cook for 1 minute. Add the lentils and stock. Bring to the boil, then reduce heat to low and cook for 20 minutes or until sweet potato is tender and the soup thickens.
Step 3: Season to taste and serve topped with yoghurt and mint.
Bowl Food
Bowl food means opening the fridge and pantry to see what you have inside then mixing and matching to make a bowl of nutritious, delicious food.
Step 1: Start with a carbohydrate base: Leftover brown rice, soba noodles, corn (canned, fresh or frozen), leftover roast potatoes or quinoa.
Step 2: Add in some protein-legumes: Canned chickpeas, lentils or kidney beans, seafood (e.g. canned or fresh tuna, sardines or salmon), chicken, hard boiled eggs, cheese
Step 3: Fill half the bowl with vegetables: beetroot (fresh or canned), chopped tomatoes, edamame beans, grated carrot, zucchini or cabbage, onion, olives, pickled vegetables.
Step 4: Add flavour- drizzle with extra virgin olive oil and any kinds of vinegar you may desire and garnish with fresh or dried herbs such as coriander, parsley, basil, chilli, garlic, ginger or turmeric.
It is a great way to use up what you already have in the fridge leftover to reduce your food waste. You would be surprised how good throwing a few things together can taste!
Story produced by Accredited Practising Dietitian, Simone Austin.